Susan Herrington is Professor of Architecture and Landscape Architecture at the University of British Columbia. She received a Master of Landscape Architecture from Harvard University in 1991 and a Bachelor of Landscape Architecture in 1986 from the State University of New York College of Environmental Science and Forestry. She has been a Registered Landscape Architect in the State of Connecticut since 1990. Prior to coming to Vancouver, she taught at Iowa State University.
Her research focuses on two areas of landscape theory: the role that landscape design plays in creating developmentally supportive outdoor play spaces for children, and how designed landscapes reflect ideas regarding nature and culture.
Research: Landscape History and Theory
On Landscapes, published by Routledge in 2008, examines recent thought on landscapes and argues for a new aesthetics of landscape.
In 2008, Herrington was awarded a grant from SSHRC to write a book on modern landscape architecture and the work of Cornelia Hahn Oberlander.
Research: Landscapes for Children
During the past decade, Herrington has conducted research on kindergarten gardens in Germany with support from the German Academic Exchange, in Boston through a visiting research position at Harvard University, and in Toronto through SSHRC. The book, Schoolyard Park: 13–acres International Design Competition, appeared in 2002.
Working with a team of students and scholars in other disciplines, Herrington recently completed a five-year study, Outside Criteria, as part of the CHILD (Consortium for Health Intervention and Learning and Development) Project funded by SSHRC. View a news segment on Garden City Park designed by Space2Place using Outside Criteria's findings (with an interview of Professor Herrington) and download 7 Cs: An Informational Guide to Young Children's Outdoor Play Spaces, written by the Outside Criteria team.

Jardin Hip Hop, 2005
Photo by Louise Tanguay

Landscape Design

Herrington's design projects include consultation with professional designers and competition entries.

She was a finalist (with Mark Stankard) in the 1997 International Design Competition for the Oklahoma City Bombing Memorial. She received an Honorable Mention (with Lisa Gelfand) in the Re:Public Park International Design Competition in Sydney, Australia. In 1999, she won First Place for Research from Places/EDRA (Environmental Design Research Association). In 2000, 2004, and 2005, Herrington was invited to build experimental sites at Les Jardins de Métis International Garden Festival in Quebec.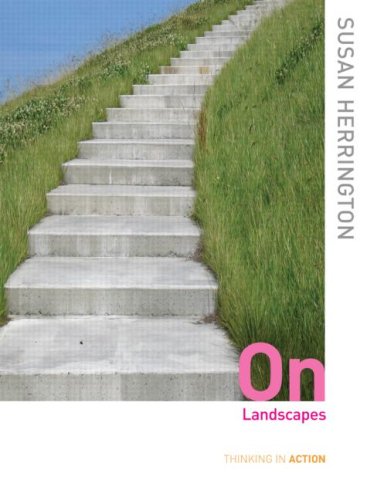 about the book
There is no escaping landscape: it's everywhere and part of everyone's life. Landscapes have received much less attention in aesthetics than those arts we can choose to ignore, such as painting or music, but they can tell us a lot about the ethical and aesthetic values of the societies that produce them.
Drawing examples from a wide range of landscapes from around the world and throughout history, Susan Herrington considers the ways landscapes can affect our emotions, our imaginations, and our understanding of the passage of time. On Landscapes reveals the design work involved in even the most naturalistic of landscapes, and the ways contemporary landscapes are turning the challenges of the industrial past into opportunities for the future. Inviting us to thoughtfully see and experience the landscapes that we encounter in our daily lives, On Landscapes demonstrates that art is all around us.